How to create a killer Gig on Fiverr to attract buyers
The success of your work on Fiverr highly depends on how you make your Gig. The first step that you need to do to sell your services and earn money on Fiverr is to understand what exactly a gig is and what are the steps to make a gig in the best possible way.
On Fiverr, you can sell whatever you want as long as you can deliver your work in digital forms such as music, articles, drawings, photographs, websites, logos, and software. You can even deliver horoscopes, birthday wishes in digital form, or tricks for video games!
Update: Since some services can be physically delivered worldwide through the postal service or by courier such as collectibles, art works, etc so there is an option for that also on Fiverr.
For this, the customer will have to pay an extra amount for the delivery costs, but sometimes the prices are already determined by Fiverr and they may be lower than the real cost of delivery. In this case, it is advised to increase the price of your service to avoid any loss.
Once you create your account on this platform, all you have to do is create your Gig and you're ready to sell.
I'll be walking you through exactly how to create a gig on Fiverr. If you've come here because you want to learn how to make money through Fiverr gigs, then I assume that you've already registered an account and want to start creating gigs of your own.
As you know very well that Fiverr is a very gigantic platform where you can sell hundreds of digital services. Therefore the first step you need to take is to showcase each of these services (gigs).
In this article, I will not only explain how to proceed but will also show you some strategies to maximize the visibility of your gigs or promote your gig to get more orders.
Purchase a service on Fiverr
Become a seller on Fiverr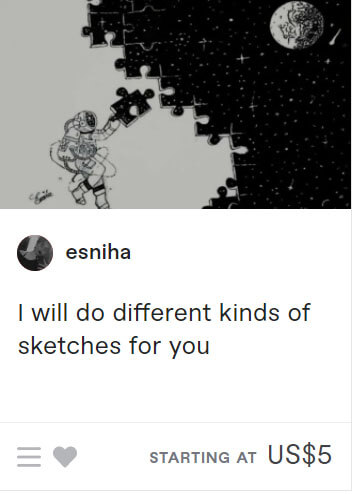 A Gig means the service that you can provide to the customers. A job that can meet the expectations of the buyer.
Each Gig can start from a minimum price of $5. If you have the European currency view in your browser then you will see the corresponding price in Euros.
Here you can decide the minimum price of your Gig. For more demanding or complex jobs you can increase the price accordingly. You can also send a custom offer or you can add one or more extra services to your gig.
fiverr gig
Create Gig On Fiverr
If you want to create a gig on Fiverr then obviously the first step is to register as a seller. If you haven't created a profile yet, it's easy to do. All you need to do is log in and select the "Sign up to Fiverr" button. If you're not sure what information to put, then you can refer to this article: The ultimate guide to Fiverr.
First of all visit the main page of Fiverr which you can find at this link.
At the top of the screen, you will find the option "Become a Seller ", you have to click on it. On clicking on the above option you will find a short video presentation by Fiverr that I recommend you to watch. Then follow the instructions on the screen to proceed with the registration.
Before creating your gig on Fiverr you need to carefully fill in all the required information.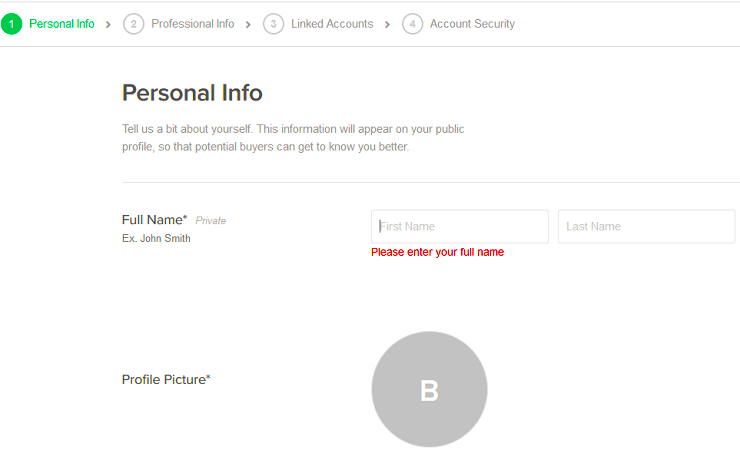 Here you have to enter your name and surname as well as your profile picture. Fill in all the other required fields because filling in your profile accurately will surely help you in growing more on Fiverr and attract more buyers.
Then proceed to the next step and enter your personal information and everything else. For any problem, you can read my detailed guide in which I explain How Fiverr works.
Did you register on Fiverr? Perfect. Now the time has come to Create your first gig and set off on a new adventure.
This is much simpler than it might seem at first glance.
If you are ready to start, you can click on the "Gigs" option in the main menu.

During the time of the creation of your account, Fiverr itself propose you create your first Gig immediately. However, you can create a gig at any time. To do this, simply log into your seller profile and click on the "Gig" option at the top center. Then move the cursor to the right where you will find a button in green "Create a New Gig".
After clicking on the button, the Overview page will open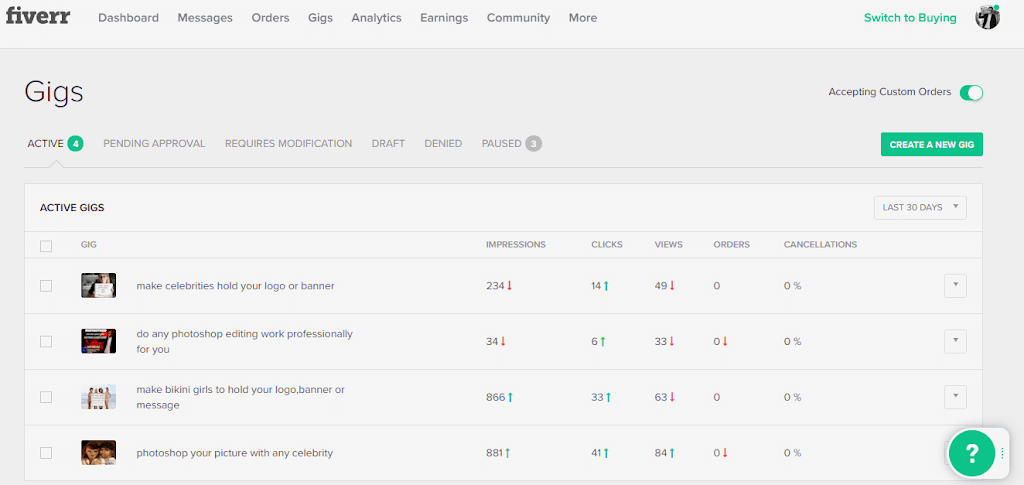 This page is very important because you will enter the Category along with the keywords and metadata that will help the customers to find your Gig in the search results on Fiverr.
So let's see how to fill the information in each of them in the best possible way.
To create your Gig on Fiverr you will need to fill this section called Overview.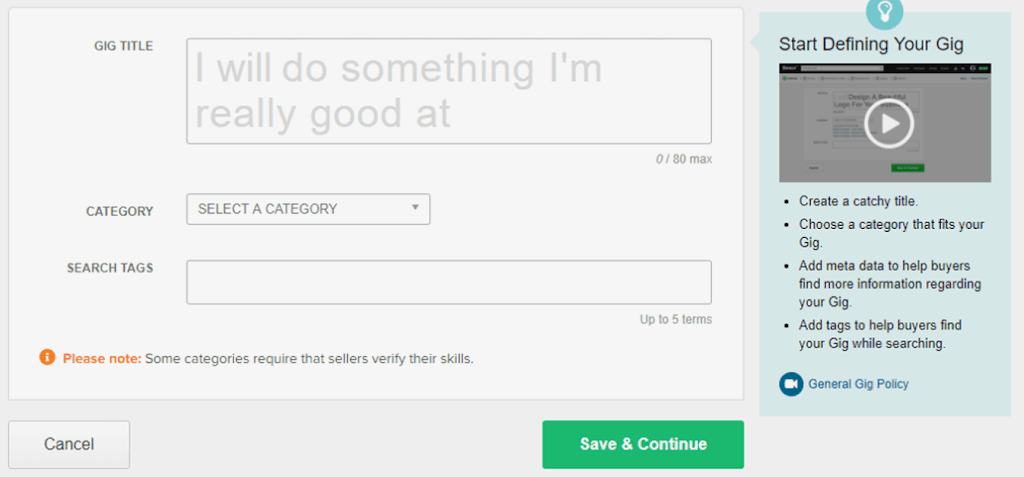 On Gig Title you have to enter the Title of your Gig.
The initial part, "I will" is same for everyone and cannot be removed or changed.
However, you can also insert the title in your own language or any language you prefer such as Hindi, Italian, German, etc. It all depends on your target audience. For example, if you want to address your Gig to an Italian audience then you can use this option. Obviously, it is up to you to decide what to do. In general, the ideal way is to create two separate Gigs, one written in English is used for an international audience while the other in Italian is used for the Italian audience.

For writing the title, you can use a maximum of 80 characters.
Enter the main keyword according to your target clients or audience and make sure that the title should be interesting and clearly written. It must not leave room for misunderstandings.
Then from the drop-down menu select the primary and secondary category of your Gig as well as the appropriate tags.

As soon as the category is selected, another window will open alongside and you will have to choose the subcategory.

As soon as you are finished, a new window will open where you will have to select the various items that will be present. These are the metadata.
Depending on the category and subcategory chosen, the metadata will be completely different.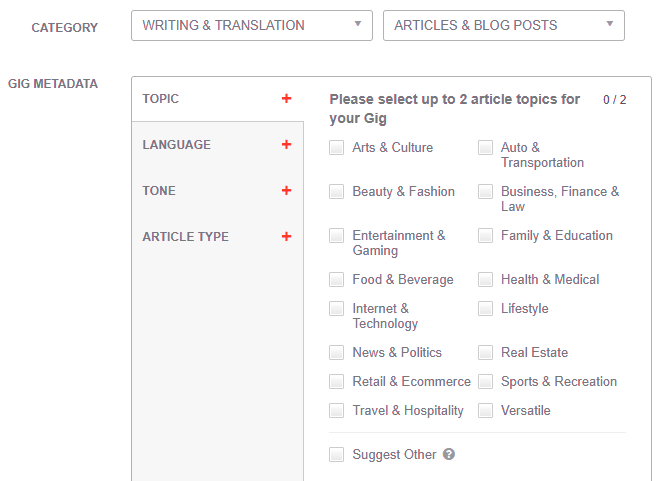 After making the selections in category and subcategory, you have to write 5 TAGs followed by a comma. A comma is needed to separate each tag. Each tag must be different and unique.
The tags are very important because along with the keyword in the title, they became the search terms through which your Gig will position itself in the search results.
Insert 5 appropriate tags and click on the Save & Continue button to go to the next section.
To create your Gig on Fiverr you will also have to insert the price of your services. To do this you need to fill in the "Pricing" section carefully.
In addition to the price of your Gig, you can also differentiate your service by creating 3 different packages: BASIC, STANDARD, and PREMIUM with which you will be able to meet the needs of your customers.
In this section, you can also give a name to each package, add a summary to each package (100 characters max) and select the various options till you complete everything with the price of the various packages.
Read the tips given for each selection that will appear on the right.
If you don't know English then you can translate it with the help of Google Translate or take help from some expert sellers on Fiverr itself.
Each category of Gig has different fields to select and fill in. The image below is just an example.
You also have the option to deselect 3 packages (the selector you see at the top right of the image) and use only one package howerver, with 3 packages you have more chances of earning.
Set the delivery time while taking care that you do not set it too short because being punctual in compliance with deadlines is one of the most important qualities if you want to make maximum profit on Fiverr.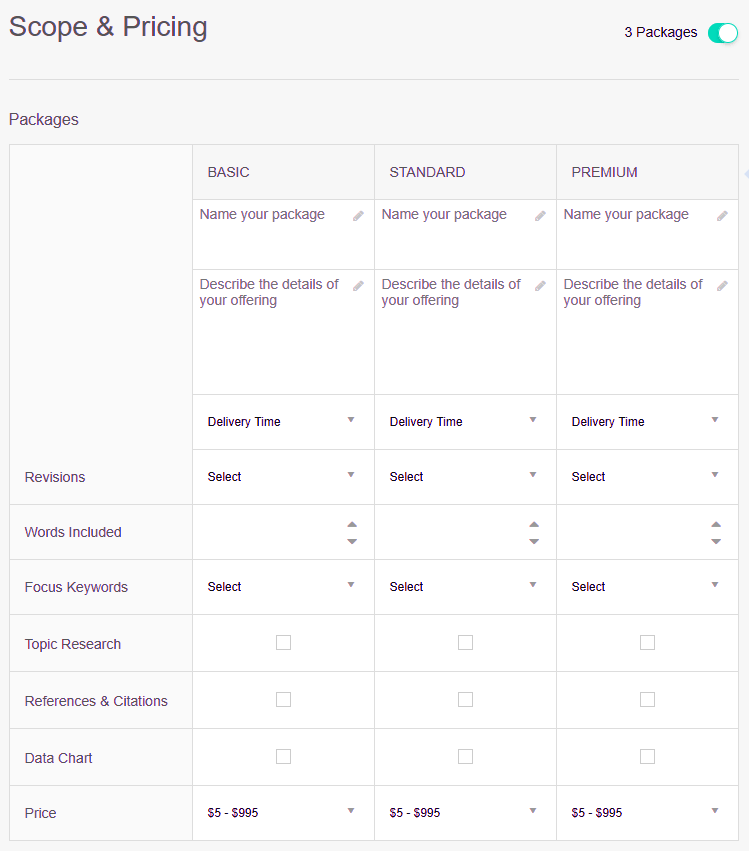 This is the most fundamental step in the creation of a gig on Fiverr. To create your Gig on Fiverr, you must fill in the "Description & FAQ" section carefully. Here you need to enter a description of your Gig accurately.
Here you have to describe your Gig. Try to do it in the most complete, captivating, and professional way. For that, you have 1200 characters available for describing your gig.

After filling description, the next section is Frequently Asked Questions. Depending on the type of service you offer, you have the option to enter the questions that you think your customers may ask you and the answers to these questions.

The FAQ section is also very important. Here you will have to enter the most frequently asked questions as well as the related answers. So think about the questions in which most of the users might be interested and help them know immediately what they want.
If you want to create your Gig on Fiverr then you also need to fill in the "Requirement" section. In this section, the customer or buyers have to provide you with the details and files which are necessary before you can start working for them and provide your service.
Here you can ask the customer for the materials and pieces of information which will be needed to perform their job.
If you are a video editor then you might need the original files or if you write articles then you may need guidelines or if you deal with websites then you may need login details. In short here you have to specify everything you need to complete your Gig in advance.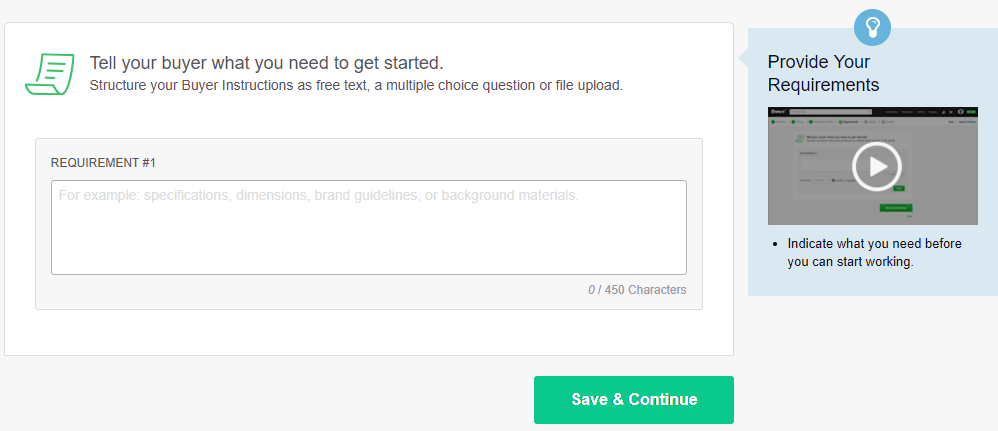 For example, if you are a lawyer and you sell legal advice you could ask the client for the judicial document you received. In this case, it is useful to activate the "Attached" option to attach a digital copy of the received document.
Or if you offer services to speed up websites then you may need website access credentials such as hosting credentials and domains. In this case, you may not need an attachment but a simple free text.
Now you are about to create your first Gig on Fiverr. The Gallery section is one of the last and most important steps in the creation of the gig.
Here you have to enter all the information that shows the potential customers that you are able to do the job that you are describing in your gig. For example, you can enter some success stories.
This is your portfolio. In this section, you can insert images and videos that demonstrate or shows your skills. Choose the best images and videos that can show your skills.
For example, if you grow Instagram profiles you can insert a screenshot of a profile to show the followers owned before the start of the service as well as the followers reached at the end of the service.
However, if it is possible then try to upload a short video because according to Fiverr itself, the videos give more conversions!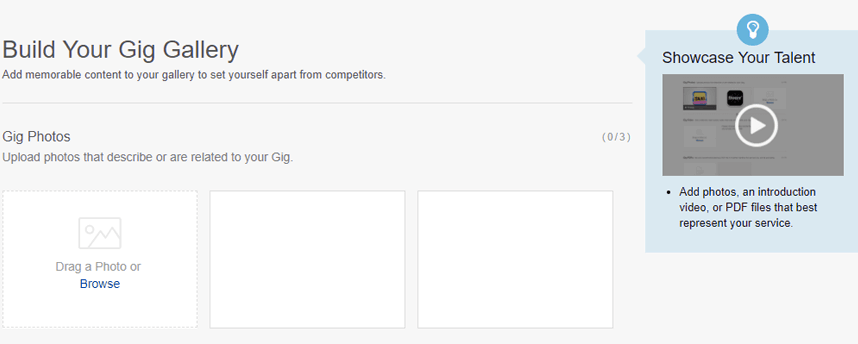 You can insert proofs in the form of attachments such as PDFs. Upload a PDF file only if it is necessary to better describe the service.

By this point you are really ready. Now all you have to do is click on "Save" and publish your first Gig. Good luck!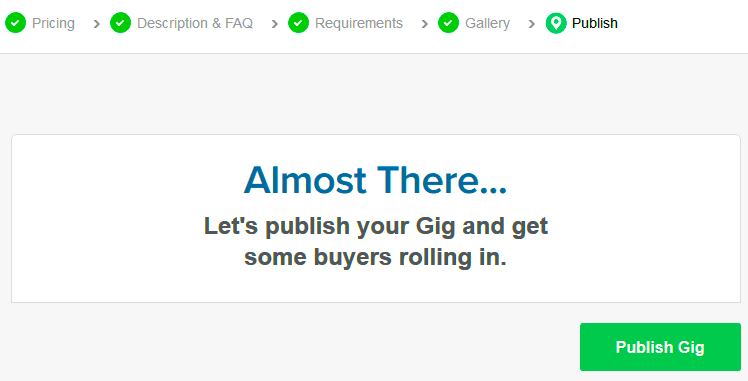 As you may have noticed, creating a Gig on Fiverr is very simple!
In the "Publish" section you can proceed with the publication of your Gig. Simply click on the green button "Publish Gig" and you're done.
If you think that you need to change some things then you can click on the "Back" option also to make your changes. However, let me tell you that you can change your Gig at any time!
After publishing your Gig Fiverr it will give you the opportunity to share your link on social networking sites to generate external traffic. It is certainly a good idea to promote your Gigs outside.
fiverr search
Try Searching Any Service On Fiverr
fiverr
Modify, Edit Or Pause A Gig
In addition to explaining how to create a Gig on Fiverr, I also want to explain how to modify, delete or pause it. In fact, it may happen to anyone who wants to make changes to the published Gig.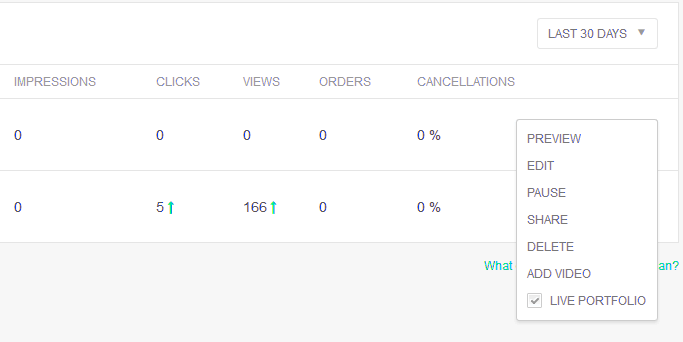 To do this you must first access the published Gigs by logging into your Fiverr profile as a seller and clicking on the "Gigs" option at the top.
After clicking you can see the statistics of impressions, clicks, etc. You can also make changes to each of these Gigs. For this, you just need to press the button to the right of the Gigs that you want to change. Then drop-down menu and a dropdown menu will open. There you can edit it by clicking on " Edit " you can pause it by clicking on " Pause " or you can also delete it by clicking on " Delete ".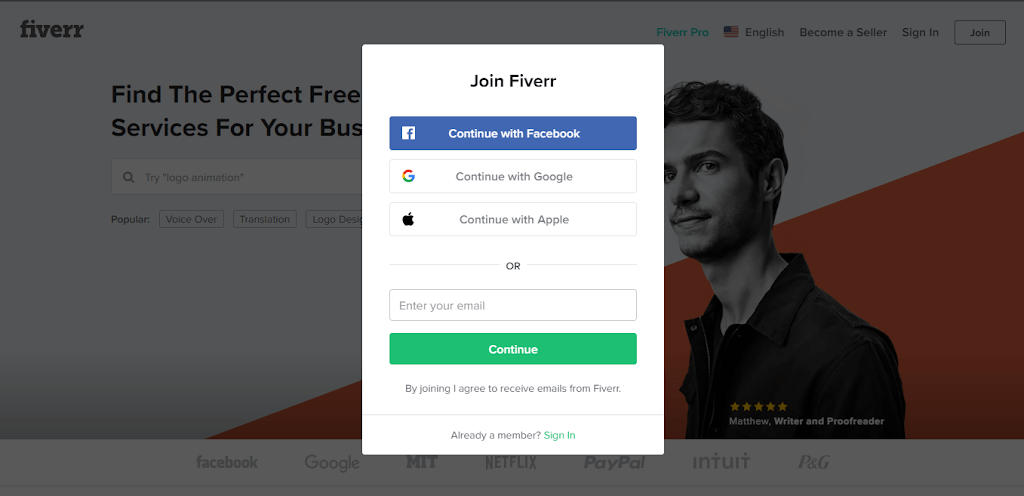 How to promote a gig?
Creating a Gig on Fiverr is just the first step toward your earnings. By compiling your Gig properly, you will definitely have good internal visibility but to maximize your sales it is useful to promote your services on Fiverr.
This is very important in the beginning. The visibility of your Gigs and the conversion rates are proportional to the number of orders received as well as the positive reviews of satisfied customers.
Therefore if you want to trigger your growth on Fiverr you will have to promote your Gig in different ways.
Let's see what they are.
For the promotion of your gig, one of the easiest methods which are available to you is social networks. Therefore make good use of various social network sites and share your Gigs there.
If you own Instagram you can insert the link of your Gigs or your profile as a seller in your Bio section of it. On Facebook, you can also share your Gigs in various groups or on your Facebook page.
You know very well that creating a Gig on Fiverr is very simple. In fact, the biggest problem is being able to sell services. If you are a freelancer you will already have clients and maybe with some of these, you also have good business relations.
Therefore it is useful to convince some customers to make them buy from you on Fiverr instead of directly. By doing this you can start selling on Fiverr and you can also gain some positive reviews.
To encourage your customers to buy on Fiverr you can offer them some bonuses privately.
Finally, you also know how to create a Gig on Fiverr!
I assure you that by following the instructions in this guide and promoting your services in the best way, you can definitely start getting orders on Fiverr!
As always I want to remind you that for any clarification you can contact me through this link. If instead, you want to receive quick answers to specific questions you can use the comments section at the end of the article.
In the next post, I will explain how to manage orders in the best way to get good ratings and reviews from buyers and at the same time increase earnings with extra offers during the realization of the job.
If you are new to Fiverr then you can get 20% off on your first order.
To get this use the promo code 20FIVERR or click the button below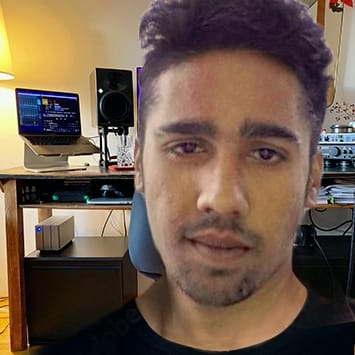 Written by Abhinav
Blogger and Graphic designer with an eagerness to learn.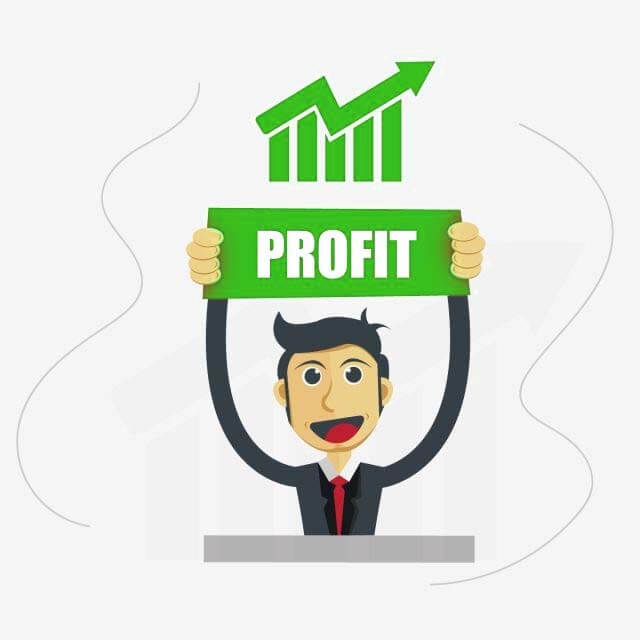 Are you crazy about making money through Fiverr? Definitely, you are in the right place then. Of course, to become a successful freelancer, it's important to be ranked in his specific area. Basically, most of the earnings of a seller come from a ranked Gig on Fiverr....
read more
Fiverr is a popular online marketplace for services. Freelancers and service providers can offer their services for as low as $5. "Fiverr" refers to the term "gig economy," which translates to the idea that you can purchase a service from someone at any time, day or...
read more
No Results Found
The page you requested could not be found. Try refining your search, or use the navigation above to locate the post.